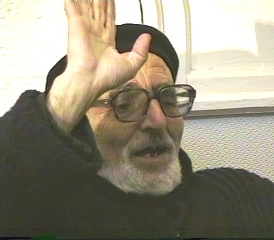 Father JOSEPH MALOULI, C.M.
Deceased 2000-03-05

Obtention of the Nihil Obstat on the Messages of Soufanieh (french and arabic)
Father Joseph Malouli is a robust octogenarian who enjoys a good health which is envied by many young men. At the time of my interview, I had a hard time keeping up with his walking pace in the streets of Damascus. He is an uncommon prominent personality in Damascus. He had been a professor at the Lazarist College of Bab Touma in Damascus during twenty-seven years. He is very popular with the thousands of his former pupils for... his severity. A rock-solid man. "In one piece" says the popular language, often hiding a "soft" heart that only children know how to discover. I understood it even more after seeing the desire of his ancient expatriate pupils in Europe or in the United States, to visit him whenever they spend their vacations back home. I could have attended one of his masses, his way of celebrating the mass is quite revealing. Behind his rough character, hides a deep piety, a special devotion for the Virgin Mary and a genuine love for Mankind. What strikes me more, is the lucidity of his faith. It is the harmonious mixture of this dense popular faith that leaves no room for doubt mixed with a solid doctrinal Catholic knowledge.He was born in Maloula, Syria (origin of his name), one of the rare places in the world where one still speaks Aramaic, Christ's language. I have had the privilege to hear the "Lord's prayer" in the small monastery of this village, the way Our Lord taught it to His apostles. The inhabitants of Maloula were several times victims of horrible persecutions because of their Christian faith.At the time of my investigation in Damascus several people, including priests, have confirmed to me that Father Malouli was allergic to any "extraordinary phenomena" related to faith. There have been several of them in Damascus in the past forty years, and he had fought them then vigorously.He found out about Soufanieh the day the Security Officers accompanied by their physician met Myrna. He had been invited to go there to observe the oozing of the oil that exuded from the icon, but he categorically refused, affirming: - " I wear a cassock and I don't want to involve the Church in something that has no head nor tail. "Two weeks would pass before his first visit to Soufanieh.The first time, he insisted on visiting Soufanieh with his Superior General, Father Farah along with the Mother Superior of the Daughters of Charity.He affirms that he was not preoccupied to see the oil ooze from the icon, but rather, he wanted to meet Myrna. Through some theological questions he asked her, he was convinced that there was no hoax and that a supernatural event was possible. Since that day Father Malouli has decided to come and join the crowd in prayer.
Since the first days of the phenomenon, Fathers Zahlaoui and Joseph Malouli have become interested in the events. Rapidly, they constituted archival files in which they recorded the many events. These two priests didn't benefit from getting involved in these events... except for encountering problems and sometimes the disapproval of colleagues slightly prone to admit what is out of the usual norms of the faith. They are both endowed with a solid general culture, an excellent reputation and an iron will at sustaining good causes.Syrian intellectuals (physicians, lawyers, teachers...) became interested in the events at Soufanieh when they knew that Fathers Malouli and Zahlaoui were often there and seemed favorable. If in the future the Church authenticates these phenomenon, Heaven could not have chosen two better propagandists.- Source: Christian Ravaz: The apparitions in Damascus

A Lazarist priest in Damascus from the Congregation of the Mission. Since 1940, has been teaching at the Lazarist college of Bab Touma in Damascus.He is recognized for his integrity and his strictness by the thousands of his former students.Has been a privileged witness since the first hours of the apparitions and the signs which manifested themselves in Soufanieh. Has faithfully transcribed the messages. Has observed and noted meticulously everything that was happening in the house of Soufanieh which he practically never left. Has ensured an impartial analysis of the events. Faithful witness of these events, he is also the spiritual guide of Myrna as well as the guide of all the pilgrims who visit the house.To quote his own words: "I have let myself be caught totally (body and soul) by the phenomenon of Soufanieh."He experienced a completely unforeseen event: he received a message from the Holy Virgin Mary, in an answer to a question he had asked while praying: "Holy Virgin, enlighten us, so as to avoid making a mistake which could prejudice Your programme." The answer was given to him a few minutes later in a message dated February 21st, 1983: "God saves me, Jesus enlightens me, the Holy Spirit is my life, this is why I fear nothing, isn't that so, My son Joseph ?"