Request for archival purposes

Requête pour fins d'archives
Avec vous tous, je rends grâce au Seigneur pour l'immense grâce qu'Il nous fait à travers Soufanieh.

Permettez-moi de vous soumettre ce désir:
Il est certain que beaucoup d'entre vous ont été témoins de ce qui s'est passé soit à Soufanieh même, soit lors de voyages de Myrna à travers le monde.

Je vous prie donc de nous faire parvenir vos témoignages écrits, pour ceux qui ne l'ont pas encore fait, à moi-même à Damas ET à M. Gabriel Berberian au Canada qui s'occupe des archives du Phénomène de Soufanieh aux adresses au bas de cette page. Prière d'utiliser une lettre avec entête professionnelle si possile et de signer votre témoignage.
Je prie le Seigneur Jesus, par l'intercession de la Vierge Marie, notre Mère, de nous permettre de demeurer à Son service, pour Sa Gloire et au service de l'Orient et du monde entier.
Votre frère dans le Christ
Père Élias Zahlaoui
---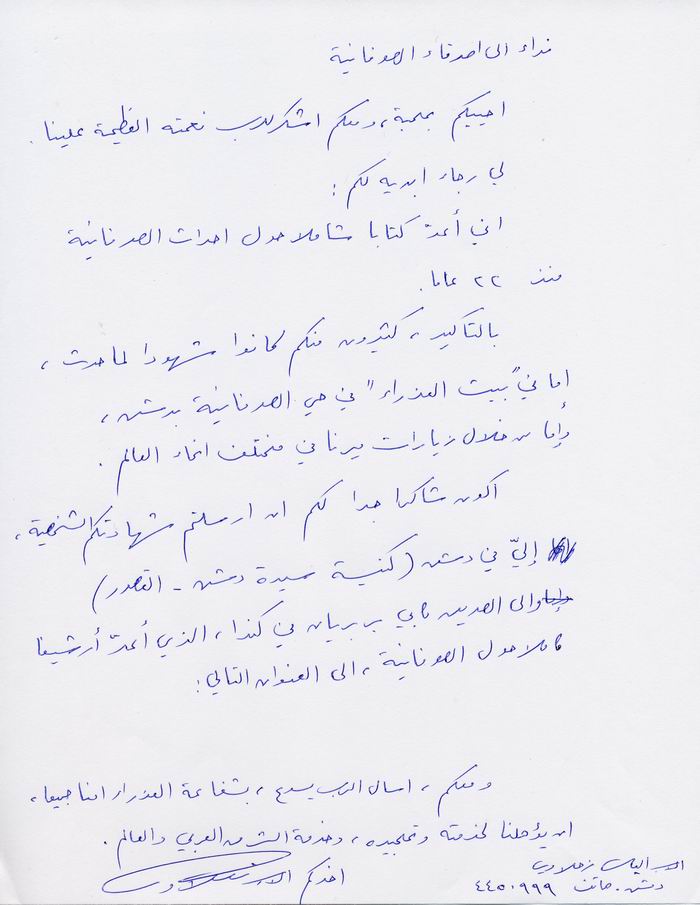 Appeal to all the friends of Soufanieh
Greetings to you and thanks to the Lord for His immense grace bestowed upon us.
I have the following request:
For sure, many of you have been witnesses of what has happened, either in the house of Our Lady in Soufanieh, Damascus, or through the various visits of Myrna around the world. I would be very grateful if you could send your personal testimony, directly to me in Damascus AND to our friend Gabriel Berberian in Canada who is keeping complete archives on the Phenomenon of Soufanieh, at the addresses at the bottom of this page. Please use stationery with your letterhead where applicable and sign your testimonial. I pray our Lord Jesus, through the intercession of the Virgin Mary, Our Mother, to enable us remain at His service for His Glory and at the service of the Orient and the world.
Your brother in Christ
Father Elias Zahlaoui
---
Père Élias Zahlaoui Église Notre-Dame de Damas Koussour, Damas Syrie

Tel: 445-0999

Gabriel Berberian 549A - 39 Avenue Lachine, Qc Canada - H8T 2E2

Tel: 514 634-0371