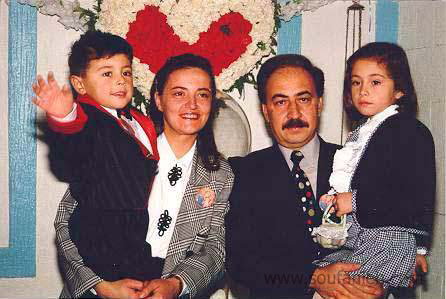 November 1993
Soufanieh is living since November 27th, 1982 in an atmosphere of peace, joy, serenity and total gratuitousness, in spite of the various servitude that visits impose on the people of the house. At Soufanieh, prayer is the essence of all activity. In principle, two prayer services are celebrated daily: prayer of the rosary and a common prayer. Sometimes, there are three or four services.
Prayer has not ceased a single day since November 27th, 1982, regardless of the time or the circumstances; prayers to which Moslems participate spontaneously, since the Virgin Mary is held in such high esteem in Islam. People that come for the first time to Soufanieh are moved by the fervor of the believers. Entire lives are totally transformed. Spiritual conversions are very numerous and are much more important than physical cures, yet very real. As for Myrna, she has kept her ingenuity and her simplicity, despite the many opportunities which could lead her into becoming very haughty. She is the mother of two children: Myriam (born October 15th, 1986 and married in 2010) and John-Emmanuel (born July 26th, 1988) and a grand-mother of two.
Myrna, Nicolas and their children offer a remarkable example of Christian family. They are moving in their simplicity, their naturalness and the welcoming warmth of their home opened day and night to whomever comes to pray there.
It is not easy to reconcile her apostolate with her other duties of wife, mother and sister. This is why she and her husband rely a lot on our prayers so she can remain faithful to the grace.